ROMTraX Fleet Management
---
Overview
The ROMTraX asset tracking device allows you to track the location and movement of vehicles or other mobile assets.
Basic features include current location tracking and virtual odometer. The ROMTraX system also is able to track over-speed conditions and has two digital counters to use to monitor PTO or engine runtime.
The ROMTraX solution takes advantage of satellite technology for all communications, allowing asset tracking and communication worldwide including remote areas without cellular coverage.
Hardware
The ROMTraX device utilizes a sensitive SiRF III GPS receiver to quickly acquire and maintain a GPS lock on your vehicle. Data is transmitted over the Iridium satellite network within seconds to report on the device's position on a configurable interval. The device is self-contained in a UV stabilized enclosure that is magnetically or screw mounted to the vehicle. Installation can be completed in less than an hour, including wiring.
Data
Fleet data is displayed on a web site accessible using any standard web browser. An overview of all vehicles can be displayed, or a history of movement for a single vehicle can be queried.
GPS position reports are sent on an interval while the vehicle is in motion. Current vehicle position and report frequency can also be retrieved or configured by or be requested by over-air commands.
The ROMTraX system includes a virtual odometer to monitor usage and maintenance, as well as hour meters to monitor device runtime.
ROMTraX Companion Option
The ROMTraX fleet package can be ordered with a touch screen GUI interface (FLT-002) to run the ROMTraX Companion software package. This package adds the following features:
Work-Alone
Geofencing
Electronic Driver Logs
Vehicle Inspection
Short Satellite Messaging
Connection to Vehicle Navigation/Mapping software
Proactive Monitoring
The ROMTraX solution uses a proactive approach to monitoring as opposed to using a reactive monitoring solution. Reactive solutions such as personal motion sensors can be susceptible to interference or false negative detection. The ROMTraX solution uses a proactive approach requiring positive feedback from the monitored person to ensure their safety.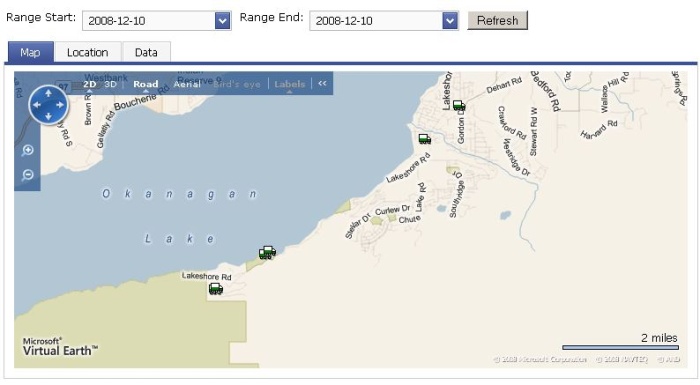 Breadcrumb trail map
Customization
The ROMTraX platform can be customized to meet your exact needs. In addition to vehicle tracking, the ROMTraX platform has been modified to track trailers, ships, and even ice flow movement.